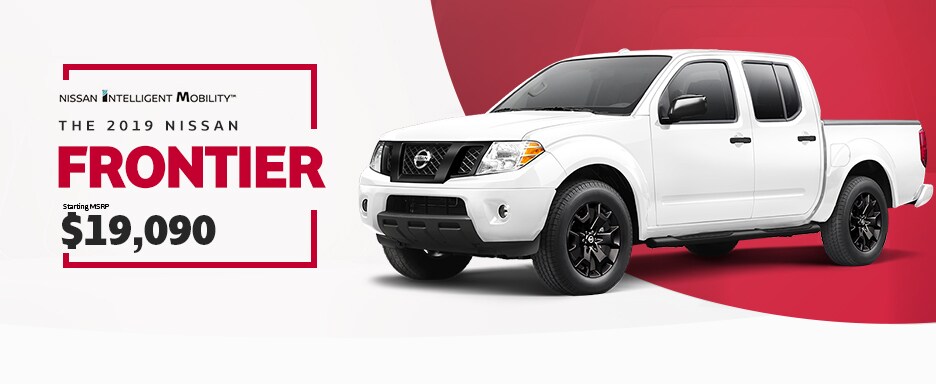 2019 Nissan Frontier For Sale in Wallingford CT
Ever wonder what the word, Nissan, means? We here at Wallingford CT Nissan sometimes get asked that question. The name comes from two words meaning Japanese Industry. This Japanese Industry, Nissan, developed out of its parent company, Nippon. It is actually much older than most people think. Nissan began vehicle production way back in 1933. From the outset, quality and durability plus affordability have been qualities to which the company has remained loyal. To get a better understanding of these guiding principles, read the exciting details about the 2019 Nissan Frontier below.

NISSAN FRONTIER
HIGHLIGHTS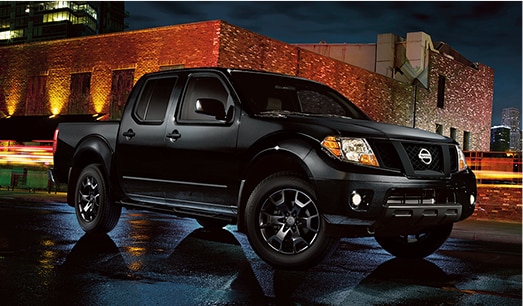 EXTERIOR
High Stance: The Frontier is Nissan's small pickup, but it still sits higher off the ground than some small pickups. Initially, this may sound like a so-what quality. Actually, this added elevation is a safety feature. It permits better driver field of view than a lower-set frame. Small trucks that set lower to the road have limited visibility. This is a real danger in heavy, fast-moving traffic around bigger vehicles and 18-wheelers.
Choices: The Frontier has five available trim packages. Talk about variety. Five trim levels plus options enable the buyer to build the exact version he desires. It even has a trim with a six-cylinder engine for those who prefer fast, quick-response driving.
Profile: The overall side view presents a strong, sturdy, well-built profile. The front is short and stout; the cab is proportioned and set to give the truck symmetry and balance. The grill gives the impression that it has angled headlights, and the Nissan badge centers it.

PERFORMANCE
Engine choices are a 2.5-liter, 16-valve, 4-cylinder or a 4.0-liter, V6. They are constructed of light-weight aluminum. 4-cylinder: The 4-cylinder has over 150 horsepower with 170 lb-ft torque. That much torque means this truck has no problem towing boats or trailers. The city/hwy. mpg average is 21. To get over 20 miles per gallon with that much power is impressive. 6-cylinder: The 6-cylinder packs over 260 horsepower, and it delivers equally amazing 271 lb-ft of torque to the wheels. Towing capacity is over 6,700 lbs. For this truck frame, that is outstanding. Transmission: Available transmissions are either a 6-speed manual or an automatic with manual shift. The 6-speed manual has a low torque first gear. This smart feature delivers maximum torque in the first and lower gears. The sixth gear really reduces engine stress and extends gas mileage on those long interstate drives.
The automatic with manual shift dramatically improves handling hills while pulling a boat or trailer. The driver can actually select a lower gear to improve hill-pulling strength.Suspension: High wheel wells give the Frontier suspension room to do its job without scrubbing the tires against the inner wheel tubs. The front to rear ladder frame gives the truck body sturdiness and rigidity.The double-wishbone front suspension and rear flexible, leaf spring setup make for an impressive suspension that gives the truck a solid feel while driving.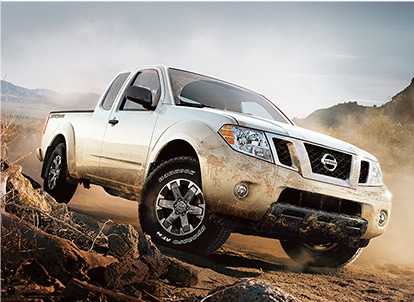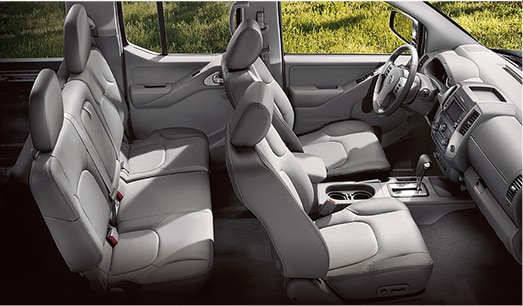 INTERIOR
The Frontier has a comfortable yet efficient and driver-friendly interior. Features located in the steering wheel increase safety since they are accessible without having to hunt them. This limits driver distraction and keeps the hands on the wheel and eyes on the road.
A rear view monitor and a rear view mirror that dims automatically also help retain driver attentiveness. Dual climate control helps keep both driver and passengers comfortable.
The instrument cluster and media display are big, clearly readable and within the natural sight path of the driver. Seating is comfortable and sits high in the cab.

TECHNOLOGY
Nissan Intelligent Mobility gives the driver a better connected driver experience. An available Nissan Connect with Navigation and Mobile Apps has all the standard connectivity features like musical favorites, mobile apps and smart phone compatibility. A 5.8-inch color touch screen is also available.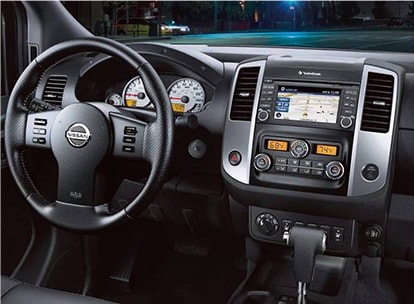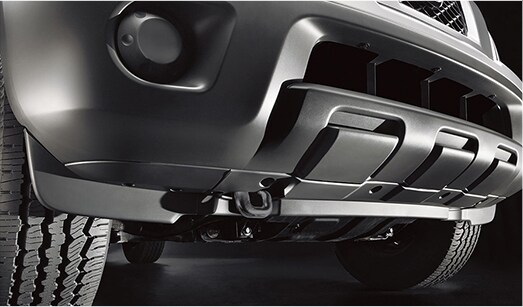 SAFETY
With all that power, stopping power is equally important. The Frontier has stoppage covered. Anti-lock brakes improve handling during sharp braking. The Electronic Brake Distribution feature senses and delivers extra stopping power when needed.
Traction Control detects slippery road conditions and increases traction to the wheels. Vehicle Dynamic Control automatically applies braking when it senses the truck straying from its directed path.
Front and side-impact airbags protect driver and passenger from front and side impacts.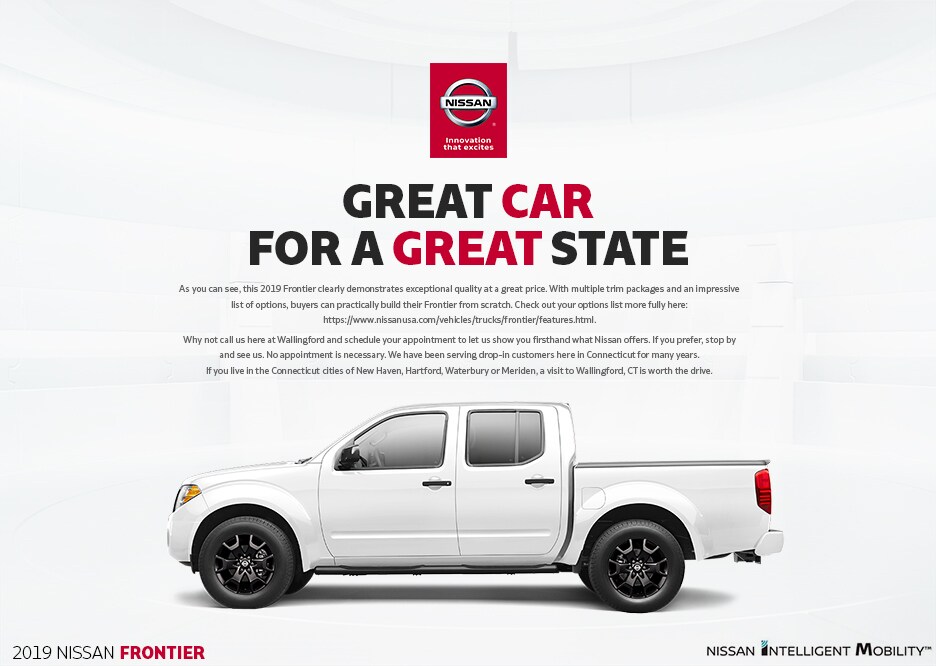 Wallingford's Top Rated Nissan Frontier Dealer
Barberino Nissan is located on 505 N. Colony Rd., Wallingford. From Bradley International Airport (BDL) head north toward Bradley International Airport and keep right to continue on Bradley International Airport. Then keep left and slight right. Next, turn right and slight left onto Schoephoester Rd. After that continue onto Bradley International Airport Con and continue onto CT-20 E/Bradley International Airport Con. At this point use the right 2 lanes to merge onto I-91 S toward Hartford and take exit 17 to merge onto CT-15 S/Wilbur Cross Pkwy. Head straight for 3.6mi and take exit 66 for US-5 toward 66/Wallingford/Meriden. Finally, use the left 2 lanes to turn left onto US-5 S/N Colony Rd and Barberino Nissan will be on your left. We are open: Monday - Thursday 9am - 8pm, Friday 9am - 7pm, Saturday 9am - 6pm, Sunday 11am - 4pm. For additional questions you can call us at (203) 265-1611 or you can find us on Yelp and Cars.